What'cha Want From Me?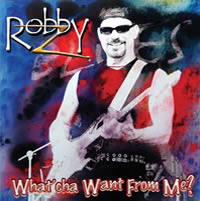 I Don't Know Why
Woke Up This Morning
Shooty-Bop!
Boom Boom
Done Somebody Wrong
Love Me Baby
What'cha Want From Me?
I Ain't Superstitious
Tearing Me Apart
Whole Lotta Loving
San Ho Say
Keeps Me Going Strong
Tuesday's Groove
Robby Z's 2004 release has been part of Jazzercise music and has thousands of Jazzercise lovers dancing to it nightly. Thousands of copies of the CD have been purchased by Jazzercise and have been distributed to its 6,000 Jazzercise Instructors worldwide for use in their class routines.
SAMPLE IT OR GET IT AT CD BABY!
I'm Your Man
Is it You
When Does it End
Can't Live Without You
Play
Leaving Today
Beautiful Woman
I Gotta Know
You Were Wrong
Turn Out the Light
There's My Baby
When Does it End (reprise)
Eleven original songs written by Robby Z ranging from blues to contemporary alternative rock. This CD features Night Ranger lead guitarist Brad Gillis (also of Ozzy Osbourne fame). Brad "tears up" several tracks with his incredible guitar work while Robby adds in his sultry vocals.